Test Engineering Intern- Summer 2017
Apply Now
Job ID
4330323
Date posted 03/29/2017
Test Engineer Intern
SUMMARY: Conducts tests, analyze data, and make recommendations on mechanical or electrical equipment and systems by performing the following duties.

ESSENTIAL DUTIES AND RESPONSIBILITIES include the following: Other duties may be assigned.
1. Design and fabrication of test control apparatus and equipment to meet the needs of design engineers and supervising test engineer.
2. Coordinate the procurement and installation of instruments, equipment, and control devices required to conduct tests and record test data.
3. Conduct tests to the conditions outlined within agreed upon test plans regarding sequences and phases of test operations.
4. Conduct tests to the conditions outlined within agreed upon test plans regarding the control over operational, functional, and performance phases of tests.
5. Make recommendations and confers with engineering and technical personnel to resolve testing problems such as product or system malfunctions, incomplete test data and data interpretation.
6. Prepare technical reports for use by engineering and management personnel.
7. Independently utilize computer software and hardware to conduct tests on mechanical and electrical products and systems.
8. Design and assemble test process equipment with input from design engineers or supervising test engineer.
QUALIFICATION REQUIREMENTS:To perform this job successfully, an individual must be able to perform each essential duty satisfactorily. The requirements listed below are representative of the knowledge, skill, and/or ability required. The individual must perform tests independently and as directed by staff engineers.
1. Ability and willingness to learn and abide by established test practices, procedures, and reporting processes to complete assignments.
2. Individual to possess basic knowledge of test theory and scientific investigation processes.
3. Ability and willingness to effectively use and apply instrumentation, data acquisition, test hardware, and reporting tools.
4. Ability to learn machine subsystems, main systems, and machine operations.
5. Employee will be closely supervised during intern program.
EDUCATION and/or EXPERIENCE:College level student pursuing a four-year degree in a related engineering discipline.
COMPUTER SKILLS:Ability to use computer keyboards and screens to access information needed to perform the essential duties and responsibilities. Working knowledge of general-purpose business software to include Word, Excel, PowerPoint, and Project.

LANGUAGE SKILLS:Ability to read, analyze, and interpret general business periodicals, professional journals, technical procedures, and governmental regulations. Ability to write reports, business correspondence, and procedure manuals. Ability to effectively present information and respond to questions from groups of managers, clients, customers, and the general public.

MATHEMATICAL SKILLS:Ability to calculate figures and amounts such as discounts, interest, commissions, proportions, percentages, area, circumference, and volume. Ability to apply the concepts of basic algebra and geometry. Ability to apply mathematical concepts, such as exponents, logarithms, standard deviation, and weighted averages.
REASONING ABILITY:Ability to define problems, collect data, establish facts, and draw valid conclusions. Ability to interpret an extensive variety of technical instructions in mathematical or diagram form and deal with several abstract and concrete variables.
PHYSICAL DEMANDS:The physical demands described here are representative of those that must be met by an employee to successfully perform the essential functions of this job. Reasonable accommodations may be made to enable individuals with disabilities to perform the essential functions.
While performing the duties of this job, the employee is frequently required to sit or kneel; use hands to finger, handle, or feel objects, tools, or controls; reach with hands and arms; and talk or hear. The employee is occasionally required to stand, walk, climb, stoop, kneel, crouch, or crawl and balance on moving equipment. The employee is required to ascend machine ladders and enter tight spaces. The employee is often required to walk distances up to 1000 feet on rough terrain. The employee must occasionally lift and/or move up to 50 pounds. Specific vision abilities required by this job include close vision, color vision, and the ability to adjust focus. The employee is required to hear normal audible discussions and warning systems.

WORK ENVIRONMENT:The work environment characteristics described here are representative of those an employee encounters while performing the essential functions of this job. Reasonable accommodations may be made to enable individuals with disabilities to perform the essential functions.
While performing the duties of this job, the employee may frequently work near moving mechanical parts, in outside weather conditions and is frequently exposed to vibration. The employee is occasionally exposed to fumes, toxic or caustic chemicals, airborne particles and risk of electrical shock.
The noise level in the work environment is usually moderate and occasionally loud.
We are proud to be an Equal Opportunity Employer of Minorities, Females, Protected Veterans, and Individuals with Disabilities.
Apply Now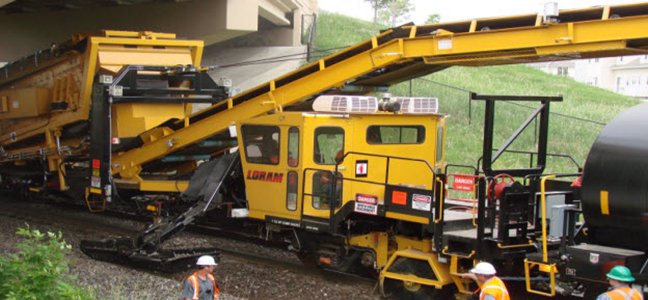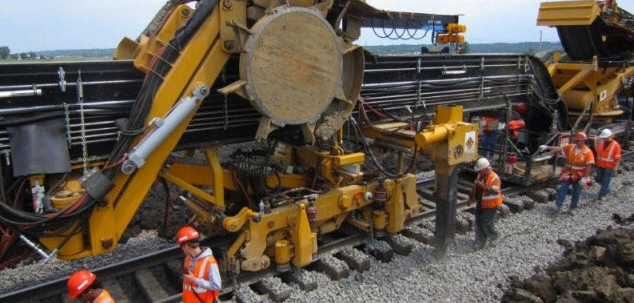 Hamel Office and Operations Profiles
Loram Maintenance of Way, Inc., provides some of the most sophisticated railway maintenance equipment to the railroads of the world. Complementing this equipment is a team of highly professional employees, dedicated to bringing the best in equipment and service to our customers. If "dedicated, professional and committed" are part of your profile, take a close look at the profiles of our team.
More
General Labor and Field Operations Opportunities
As a General Laborer at Loram, you'll have the opportunity to turn ambition into job satisfaction. Help us deliver advanced equipment, technology and services to the railroads of North America. At Loram, you'll be supported by an excellent, comprehensive benefits package, great pay, and an opportunity for growth — everything you need to build a bright future.
More
Life at Loram
We are strong community partners and participate in numerous community activities including the United Way fundraising, IOCP sleep out for the homeless, local holiday festivals, Women's Initiative Network, and support our military with our 20/20 vision program – working to employ 20% of our workforce from those who have served in our military by the year 2020.
Explore Minnesota
Uptown Hamel
I-94 West Chamber of Commerce

Let us search jobs for you based on your skills and experience listed in your LinkedIn Profile.
Start Matching